Joseph Sharpe's Buffalo Bills Fan Profile
Profile photo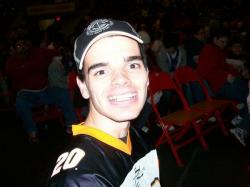 Who am I?
My name is Joseph Sharpe, and I live in Lancaster, PA. I am a sports fanatic, and I mean any sport...most atleast. I also enjoy writing, so I figured writing about sports would make a lot of sense. Anyhow, I hope I give everyone who reads some knowledge on some sports topics they may not have known about before.
Company / Institution
Lancaster County Courthouse
Joseph Sharpe's comment wall
No comments on this wall. Login to post a comment.
Joseph Sharpe's Weblog Posts
Maybe Mike D'Antoni is the answer for the New York Knicks posted on 01/18/2009

The Knicks, even though the record may not show it, are a much better team to watch. This is one of the first years in a long while, that I ask what team is the worst in the NBA, and the Knicks are not even in the conversation. Getting rid of Isiah Thomas was such a relief, and talking about relief, how about finally getting rid of the demon known as Stephon Marbury. I don't know what team would want him, but I am just happy that he is off of the Knicks. Anyhow, again, the New York Knicks may not have a great record, but they are turning it around, and I see good things in the future of the Knicks. I also, as I previously blogged about, don't think they should even try to get LeBron James, because I don't think he is going anywhere, and even if he does, we would have to trade away half of our team just to get him. Meanwhile, there are teams dumb enough to get rid of some pretty good players, just to make the salary cap room to go after LeBron. Also, there are some really good free agents comming out the same year that LeBron is comming out, why don't the Knicks use some of that money, and get some good talent that way. I know LeBron is the best player in the NBA, but that does not make a whole team. Even Kobe Bryant, if he has noone to help him, can't do anything.
Continue reading "Maybe Mike D'Antoni is the answer for the New York Knicks"
(0 comments)
The Real Reasons for the Eagles loss to the Cardinals posted on 01/18/2009

Living near Philadelphia, every time the Eagles do badly, I always hear some sort of excuse. For the past 8 years, that reason has always seemed to be Andy Reid and Donovan McNabb. I am sick and tired about hearing how Andy Reid needs to be fired, and that Donovan McNabb needs to be traded. For 5 of the last 8 years, the Eagles were one win away from going to the super bowl, and 1 time, getting to go. The reason for the loss to the Cardinals though, had very little to do with either Andy Reid or Donovan McNabb. In fact, if I were to make a list of reasons why the Eagles loss, there would be a lot of reasons I would put in front of Reid/McNabb.
The first reason I can give you, is penalties. The Eagles defense is the NFL's third ranked defense, you are in the middle of the NFC Championship game, you should not have stupid penalties. Yes, I am talking to you Quintin Demps, who had a roughing the passer penalty to set up Arizona with a Field Goal. I am talking about Asante Samuel having a pass interferance call in the end zone to set up the Cardinals for a Touchdown. Those are 10 points right there, that should have only been 3, the Cardinals were in field goal range when Samuel had the pass interference penalty. Then you have Brodrick Bunkley getting a Roughing the Passer penalty after a Cardinals score...which pretty much automatically makes the Eagles start with the ball on the 20 on their next drive. It wasn't only the defense though, talking about McNabb having that intentional grounding penalty, or Dan Klecko getting an offensive holding penalty that cancelled a 20-yard gain, and made it 2nd and 20. At this point in the season, those dumb penalties will not help you win games. I don't care how talented your team is, you give up dumb penalties...you will lose.
Continue reading "The Real Reasons for the Eagles loss to the Cardinals"
(0 comments)
Things are beginning to look too familiar for the Buffalo Bills. posted on 01/06/2009

So, another year, another Buffalo Bills season without the playoffs. The Buffalo Bills finished 7-9 for the 3rd straight season. I thought the point of the NFL was to try to constantly improve on your team, not stay the same. I mean, I can understand the New England Patriots not being able to finish 16-0 every season, but 7-9 is terrible. The Buffalo Bills and the Detroit Lions are now the only 2 teams who have not made the playoffs since the 1999-2000 season (The longest playoff droubt's currently in the NFL). Now, Ralph Wilson Sr. has decided to stick with the current coaching staff, and hope to build on a team, that is just one or two things away from being a contender.
First of all, the Buffalo Bills need depth. I believe the wide reciever spot is what beat us this year. Josh Reed, although I do like him a lot, is not a number 2 wide reciever...he was a number 3 for the Pittsburgh Steelers before he came to Buffalo, and he should be a number 3 now. We should have worked more on James Hardy during the course of this season. James Hardy is a very skilled wide reciever, who some experts ranked higher than DeSean Jackson. The Philadelphia Eagles had a greatly improved wide reciever core this year, with the help of the young rookie. Also, we should be putting Roscoe Parrish in the slot...I can not think of a linebacker who can keep up with someone as fast as Roscoe is. Our offensive play calling was terrible this year. In the offseason, there was talk of us opening up our offense, letting it go. I didn't see that on the field at all...there were times where it looked like the offense was confused, and it looked like the defense knew exactly what was coming at them. I don't mind keeping head coach Dick Jauron, but maybe we should look offensive coordinator Turk Schonert. I know that it is his first year, so maybe it is better to keep him, but I want to see improvement, not the same 7-9, almost good enough for the playoffs, that Buffalo Bills fans have unfortunately become used to.
Continue reading "Things are beginning to look too familiar for the Buffalo Bills."
(0 comments)
Winning is not always everything, NFL, MLB, NBA, NHL all make that clear posted on 12/25/2008

Who is the best player, of their individual sport? It is a question commonly asked, and so rarely is there a diffinitive answer. With each sport, there are many players, who throughout the years, have given all of us fans reasons to say that this player or that player is the best. Now, when asking someone, "What is the biggest achievement in sports?", there is only one answer, and that is, win a championship. There are a lot of players, who have the numbers to argue their status as the best player of their sport, but if they don't have a championship to their name, they are automatically taken out of the conversation. Dan Marino posted great numbers as the quarterback of the Miami Dolphins, posting many records, but is never considered one of the best NFL players of all time simply because he never won the Super Bowl. So, if not having any rings automatically takes you out of the conversation of best player ever, shouldn't having the most automatically put you in the conversation for the best? As research shows, not only is that not always the case, in fact, it rarely is. In fact, there are only two sports were the top championship getter, is also considered the best that sport had to offer, Richard Petty and Dale Earnhardt Sr. in Nascar tie with 7 championships, and Jack Nicklaus with 18 golf majors. Other than those two sports, all other leading championship players, are rarely heard of. Who is the greatest NFL player of all time? Name all the names that come into your head when asked that question, and there is a lot....Jerry Rice, Joe Montana, Brett Favre, Walter Payton, Emmitt Smith, etc...now who has the record for most Super Bowl rings? The name is Charles Haley, played from 1986-1999, won 5 Super Bowl rings. The biggest surprise about Charles Haley, is not only does he not get a single vote for best NFL player of all time, he is yet to be inducted into the NFL Hall of Fame. Now, he has only been eligible for the NFL Hall of Fame since 2004, but he has not even made the list of top 15 finalists. He is the only player with the most championships not to be inducted into that sports Hall of Fame, and although the names may sound familiar, still none are considered the best.
Continue reading "Winning is not always everything, NFL, MLB, NBA, NHL all make that clear"
(0 comments)
New York Knicks making progress, shouldn't throw it away for Lebron James posted on 12/25/2008

Lately, it has been so hard to think of the New York Knicks, and think of the great teams of the past. It is hard to see the history behind such a great franchise. A franchise that has won 2 NBA championships, both in the 1969-1970 season and 1972-1973 season, and a franchise who has also made the playoffs 38 times, last time being in the 2003-2004 season, in their 62 year history . If you have only recently became a NBA fan, you are seeing a Knicks team, that looks more like an expansion team, then a great franchise. The Knicks have not had a winning season since the 2000-2001 season, and for most of this decade, it looks as though it has gotten worse and worse from season to season. However, with the addition of head coach Mike D'Antoni, the New York Knicks, are actually a fun team to watch again. Their record, 11-16, does not look as a team on the rise, but the New York Knicks have not had this "good" of a record since the 2003-2004 season. Not only that, but they are playing close games, other than to the Boston Celtics who seem to be running away from everyone. I am not saying that the Knicks are the Knicks of old, but maybe this is the start of their turn around. A turn around that Knicks fans have been waiting for. Now, something that would help the Knicks progress greatly, is if they can grab LeBron James, when he becomes a free agent at the end of the 2010 season, but the Knicks should not rely on that. Right now, it seems as though every team is giving away players, just so they will have enough room in the salary cap for the superstar Lebron James. So why would Lebron pick the Knicks? How many rings does Lebron have in his early career? Having Lebron James does not automatically make you a winner, what the Knicks need is to continue rebuilding a team...not rebuild just for one player, no matter how good that player is. The New York Knickerbockers are a proud franchise, and what happens if the ownership gets the team ready for a player, that might not even go to the team. Should the fans suffer through another decade of miserable play, just on a chance? Fans in New York may say yes now, but what will they be saying after 6 more losing seasons, and no Lebron James?
Continue reading "New York Knicks making progress, shouldn't throw it away for Lebron James"
(0 comments)